Effective Tattoo Healing With Emu Oil
Emu oil is highly recommended and widely used in tattoo healing — and for good reason.
You see, the healing process of a tattoo is just as critical as the tattooing process itself. Proper tattoo healing is vital for a vibrant and sharp tattoo.
First, you must understand that your fresh tattoo is technically a wound — ink is repeatedly deposited into the skin's deepest layers with a tiny needle.
This process destroys and damages skin cells, triggering the body's response to repair and heal itself.
During healing, all seven layers of the skin rejuvenate by purging dead skin cells and forming new ones.
In fact, there are three stages to the healing process, and with the proper skincare, you can aid your skin in healing effectively and efficiently.
With that said, emu oil is an excellent option in tattoo healing because it:
Is a non-comedogenic moisturizer
Offers deep and effective moisturization to all seven layers of the skin
Can reduce inflammation
Let's dive deeper into the three stages of tattoo healing to further understand why emu oil can benefit the tattoo healing process.
If you want a good looking tattoo, understanding and supporting the healing timeline will help you achieve that goal.
Stage One of the Tattoo Healing Process
Stage one of the healing process lasts about one to six days and begins as soon as the tattoo artist is finished with their work.
Of course, your new tattoo is a beautiful piece of artwork, but it's still an open wound. In fact, your body immediately starts producing plasma to initiate the clotting process.
And once your tattoo artist is finished — they will gently wash your tattoo with antibacterial and fragrance-free soap to ensure your tattoo's cleanliness.
After patting your tattoo dry, the artist will wrap your fresh tattoo with either a plastic wrap, bandage, or special second skin.
Pro tip: Many tattoo artists advise you to leave your wrap on for at least 12-24 hours.
Is Oozing Ink and Blood Normal?
After removing the wrap, it's normal to find that the skin is oozing plasma, ink, or blood — this is the body's way of repairing itself.
It's advised to gently wash away the plasma/ink/blood as much as possible because pathogens feed on this mixture.
Plus, plasma turns into scabs so washing away any plasma reduces scabbing.
In stage one, it's very common to experience the following with your new tattoo and the surrounding skin:
Soreness — similar to a moderate or severe sunburn burn
Warm to the touch
Red and raised
Bruising
Redness
Oozing
If you are looking for a non-comedogenic moisturizer for stage one, emu oil can provide moisture and inflammatory relief while allowing skin the necessary airflow to heal and remain healthy.
Stage Two of the Tattoo Healing Process
For stage two of the healing process, we must first understand its defining component: scabbing.
Depending on your tattoo size, small or large scabs have begun to form on the tattooed skin.
In fact, more extensive scabs are hard and well-formed at this point, while smaller scabs are flaking off.
In addition to scabbing — itching, dry, and flaky skin are present due to damaged and dead skin cells. Another common factor of stage two.
Although heavy peeling may last 2-4 days and can look really bad, this is completely normal.
At this stage, keeping your tattoo moisturized with a fragrance-free moisturizer such as emu oil helps prevent itching and can decrease the healing time, dryness, and scabbing of the tattoo.
Note: it might be tempting to peel off pieces of skin, but doing so could uproot layers of ink — causing patchiness and fading.
We strongly recommend using emu oil throughout stage two of the tattoo healing process. The deep moisturizing effects of emu oil allow it to reach all seven layers of the skin — decreasing dryness and itching.
Stage Three of the Tattoo Healing Process
The last stage of the healing process is the beginning of your post-tattoo healing journey.
15 days into stage three, your tattoo should be mostly free of scabs and flaky skin.
Although that doesn't mean the tattoo is fully healed. Your tattoo can appear cloudy, dull, or scaly due to layers of skin still recovering. The deeper layers of skin can take as long as six months to heal.
However, it's essential to note that you should moisturize your tattoo and the surrounding skin with emu oil whenever your skin feels dry — in the first three stages and after.
In fact, the application of emu oil can offer instant dry skin relief and continuous skin healing for a vivid looking tattoo — whenever you need it.
Signs and Symptoms of a Tattoo Infection
If you're going to get a tattoo, you must understand that infections can happen.
Although, if you keep your tattoo clean with antibacterial soap, it isn't likely.
With that said, let's go over the common symptoms and signs of tattoo infection, such as:
Fever
Hot and cold chills
Abnormal shivering
Swelling around the tattooed area
Pus coming from the tattooed area
Red lesions
Areas of hard, raised tissue
It's important to note a common post-tattoo symptom: a rash and red bumps around the tattoo. Sometimes this means your skin is irritated from the needles, especially if you have sensitive skin.
If the rash and red bumps last more than a week, contact your tattoo artist or doctor.
As said, using antibacterial soap is a great way to reduce the risk of infection. Following cleansing with a layer of emu oil is an effective way to keep the skin healthy and supple.
Why Does Emu Oil Benefit the Tattoo Healing Process?
Emu Oil Is a Non-Comedogenic Moisturizer 
Emu oil is great for tattoo aftercare because it is non-comedogenic. This means it allows the skin to breathe and doesn't clog the pores. It absorbs directly into the skin.
In fact, a tattoo professional from NY Ink — Megan Massacre — claims that using thick lotion such as Aquaphor can clog your pores.
And the result of doing so risks possible infection and disruptive healing.
But here's the good news.
Emu oil can moisturize the skin without suffocating it.
This is because emu oil has a high level of polyunsaturated fats, which easily penetrate the skin barriers.
In addition to easy skin absorption — emu oil can deeply moisturize and reach all seven layers of the skin.
Studies show that emu oil can penetrate the skin two to four times deeper compared to other oils.
That said, emu oil's moisturizing effects can benefit your tattoo healing journey in all three stages.
Emu Oil Can Reduce Inflammation 
Due to the abundance of polyunsaturated fatty acids in emu oil, it's been proven to have an anti-inflammatory effect.
In fact, emu oil contains linolenic acid, oleic acid, and palmitoleic acid. All of these have been proven to be highly effective in treating inflammation.
And as we now know, stage one's main component is inflammation of the tattooed skin and the surrounding area.
With that said, emu oil is highly recommended for treating inflammation of a tattoo, especially in stage one when inflammation is the most prominent.
Positive Reviews About Emu Oil and Tattoo Aftercare
"A friend of mine recommended that I try emu oil for my next tattoo. I had used Aquaphor for all my previous pieces without issue, so I was skeptical at first, but I gave it a shot.

I was impressed at how much faster my new (big!) tattoo healed compared to all the previous work I've gotten done.

Using emu oil not only sped up the healing process, but it reduced most of the normal post-tattooing redness and tenderness practically overnight. I'm definitely going to be using emu oil for all my future tattoos."



"I've been applying emu oil to my new tattoo for over a month now--well after the healing process has ended. I couldn't be happier with how clean the lines look and how bright and colorful the tattoo has remained, not to mention how soft and healthy my skin feels."
Next Steps for Your Tattoo Aftercare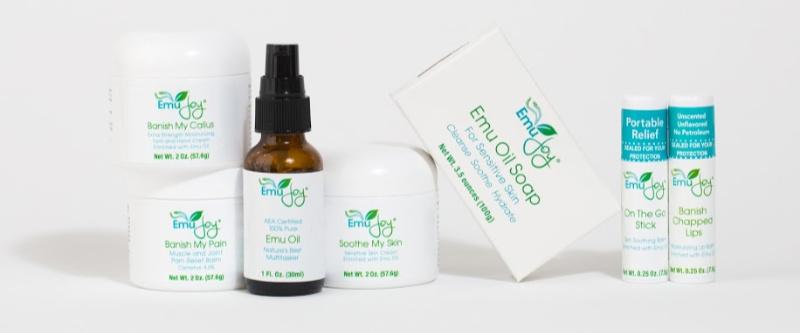 Rocking some fresh ink or planning to get a new tattoo soon? Emu oil can be your best friend in tattoo aftercare.
Its unique fatty acid properties can reduce inflammation and deeply moisturize the skin without clogging the pores.
With that said, Emu Joy offers a whole skincare line made with pure emu oil and natural ingredients — offering flexible and easy ways to reap the benefits of emu oil.
You may want to invest in a moisturizing bar of emu oil soap. In fact, washing your tattoo with a moisturizing and antibacterial soap will prevent further dryness and infection.
And if you just want emu oil in its most natural state — Emu Joy offers affordable and pure emu oil for optimal skin hydration. 

Featured Image from:Unsplash by Annie Spratt