How to Use Emu Oil for Lichen Sclerosus Treatment
As a long-term skin disorder, lichen sclerosus (LS) calls for special care as it mainly affects the genital and anal areas.
This results in skin changes such as the appearance of white patches on the skin surface, making it appear thin and wrinkly.
Developing and practicing a good hygiene regimen may help patients with lichen sclerosus minimize the intensity of symptoms like itching and redness.
Some of the recommended hygiene practices include avoiding scratching the affected area, wearing cotton underwear (not synthetic), and avoiding scented soaps.
Honestly, best practices can only do so much. What may really benefit lichen sclerosus sufferers is a gentle ointment that has a soothing and moisturizing effect on the areas affected by LS.
That ointment is none other than emu oil.
"I thought it would just be soothing after a flare, which would have been good, but it actually seems to be helping to stop them. Stress can cause a flare for me, and I was in a stressful situation while out and about and felt a flare started. I used the 'stick' and it worked. Have used the oil, cream, and stick so far."
We'll get to what the oil, cream, and stick are in a moment. First, let's take a look at the benefits of using emu oil to manage lichen sclerosus.
What Is the Best Treatment for Lichen Sclerosus (LS)?
Also known as lichen sclerosus et atrophicus, lichen sclerosus may affect any part of the body but most often occurs in the skin around the genitals.
Types of lichen sclerosus include vulvar lichen sclerosus in women and balanitis xerotica obliterans in men. Diagnosis for both usually requires a skin biopsy.
Some risk factors for LS include immune-related thyroid disease and generally problems with one's immune system.
Common symptoms of LS include:
Vulvar itching
Anal itching, bleeding, or pain
Pain during sexual intercourse
Skin bruising and tearing
Blisters
Bleeding easily after slightly rubbing the skin
Trouble urinating or pain with urination
Painful erections (in men)
Do you have Inflammation? Itching? Bruising? This is where emu oil shines best.
Emu oil has been used for years by Australian Aborigines to relieve minor aches,  pains, and heal wounds.
Emu oil has two properties that are particularly beneficial for managing lichen sclerosus symptoms: itch control and wound healing.
Itch Control and Wound Healing
Emu oil contains numerous polyunsaturated fats like linoleic acid and oleic acid. Both have antioxidant and anti-inflammatory properties which initiate wound healing.
Reduced inflammation means there's less of an itching sensation (which usually results in reddening of the skin).
It doesn't stop there. These essential fatty acids mean that emu oil deeply penetrates the skin and moisturizes all seven layers, thus providing a lasting soothing effect.
These same fatty acids give emu oil its wound healing properties, specifically useful for treating LS lesions by increasing collagen production.
Alternative to Steroid Creams
The most commonly prescribed corticosteroid treatment for lichen sclerosus is a potent topical steroid known as clobetasol propionate (or just clob).
However, enough anecdotal evidence reveals that this may often result in topical steroid withdrawal syndrome.
This is another skin condition characterized by the emergence of burning red skin once someone stops using steroid creams.
Despite this major side effect, the truth is most LS sufferers will need long-term treatment to manage their symptoms—this is where patient education matters most.
Especially patient-driven education, which Sally demonstrates beautifully.
After experiencing burning, itching, and scarring of her skin "down south," she started steroid treatment and stayed the course for a few years. Over time, she noticed more skin damage like thinning of the skin and bleeding. 
Desperate for relief, she looked for natural treatments on LS forums, and one Emu Joy product turned out to be a favorite. Specifically, the On the Go Skin Soother Stick because of its ingredients like comfrey and aloe.
After only using the stick for a few days, she not only noticed a change in the affected area, but she could also sleep through the night.
"I am now only using the steroid cream twice a week for maintenance, and I'm confident I will be able to reduce further over time," she proudly says.
Now that you know a little bit about our soother stick let's take a deeper look at our natural treatments for lichen sclerosus.
How Do You Treat Lichen Sclerosus Naturally?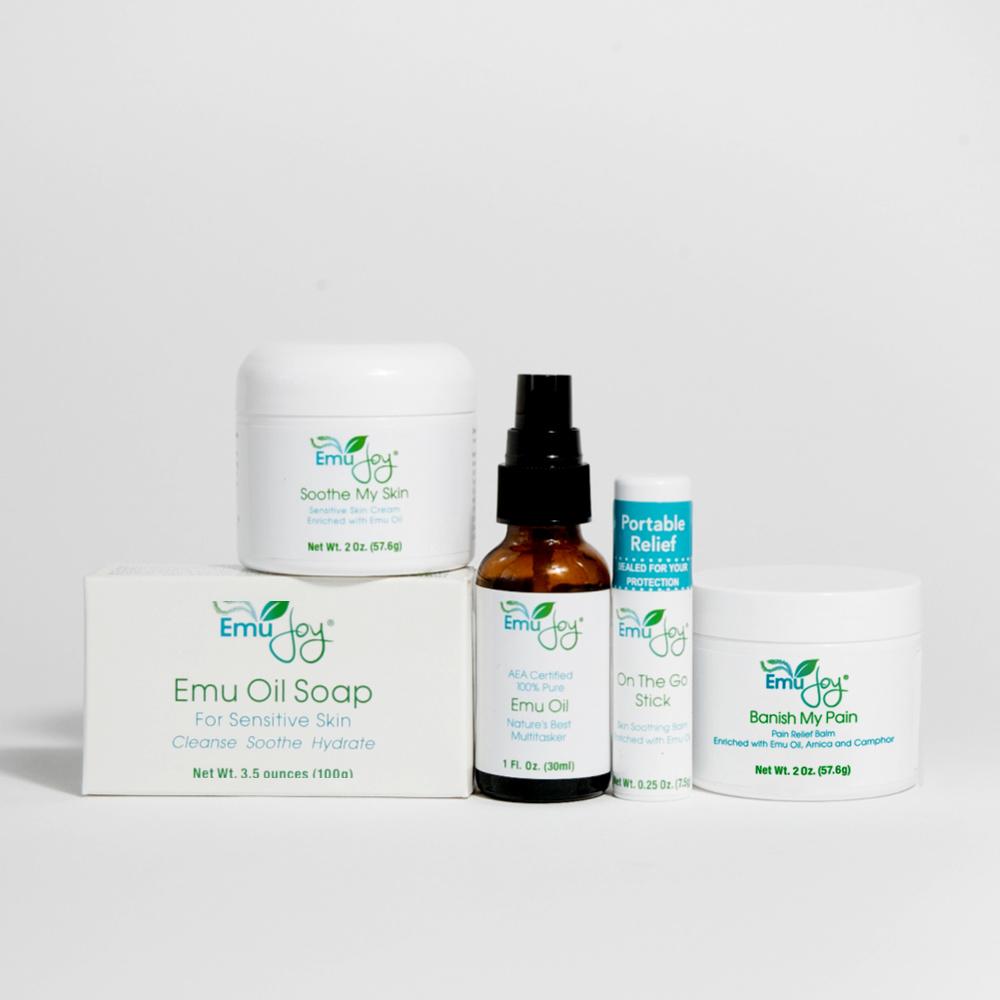 Soothe My LS Kit
The treatment of lichen sclerosus doesn't have to solely be topical corticosteroids. As we've learned there are side effects of long-term steroid use.
That's why Emu Joy is dedicated to developing alternative treatment options.
Informed by the incredible benefits of emu oil, we created the Soothe My LS kit made up of five wonderful products that provide relief for many LS sufferers.
Pure Emu Oil is perfect for relieving the sting caused by urinating—simply apply before and after urinating.
Feel free to also use it as a lubricant as it's safe to apply inside the vagina and moisturize before bedtime so that you can enjoy a full night of sleep.
"If you have LS you have probably tried many different moisturizers. I use Emu Oil at nighttime. I get warm at night and use this to soothe and prevent itching."- Anonymous
Soothe My Skin cream calms the itch and irritation from LS. It's made up of aloe that seals moisture into the skin, calendula that accelerates wound healing, and chamomile that neutralizes the free radicals responsible for skin irritation.
"I have been using the Emu Joy Soothe my Skin for several months now. I can honestly say that I NEVER want to be without it. It's a lifesaver. It works almost instantly to provide relief of a skin condition I have. With daily use, I can control my condition easily. I am 100% recommending this."- Beth S.
Banish My Pain gets its pain-relieving properties from camphor, arnica, cajeput, emu oil, and other plant oils selected for their anti-inflammatory and collagen-inducing properties.
NB: We recommend you avoid using any products that contain arnica on broken skin, so let all splits heal before using Banish My Pain.
"Lichen sclerosus relief. This product has given me so much relief from the constant pain and itch of lichen sclerosus. This is a lifesaver and I am a user for life."- Madison L.
Emu Oil Soap is a gentle all-natural soap enhanced with calendula oil that helps soothe and improve the appearance of irritated skin.
"Nice and soft. I use it for my genital area to help ease my lichen sclerosus."- Anonymous
On the Go Skin Soother Stick is a handy pocket-sized moisturizer that you can use to relieve symptoms like pain, itch, and irritation while out and about.
The soother stick contains almond oil which is an emollient that improves the skin barrier, and comfrey contains allantoin—a compound that reduces inflammation.
Does Emu Oil Help Manage Lichen Sclerosus?

3 Effective Lichen Sclerosus Natural Treatments
Yes, and Skye can attest to this. After a month of using these products, most of her symptoms disappeared.
"I'm not saying Emu Joy cured my lichen sclerosis, but I'm really not sure what else could have done it. I've had LS for 7 years and have suffered tremendously and daily from it. I started using the oil before the clobetasol (which I was using every other day), and then Soothe My Skin and Banish My Pain at other times, morning and night. A week into it, symptoms were diminished. I started using clobetasol only twice a week. A month into it, symptoms were gone. It's been 2 1/2 months since I started. I've only had the fragile **** tissue since then. I'm eternally grateful to Emu Joy. You've saved my *** life and helped me feel comfortable in public again!"- Skye
Get your very own Soothe My LS kit through the link below.


Featured Image from: Pxfuel