1. Add to bath water

Pour a teaspoon of pure emu oil into the bath water to moisturize skin and reduce flaking. 
This is a very effective way to sooth a baby's irritated skin.
Cleanse with gentle Emu Oil Soap.
4. Keep a solid form handy to relieve irritated skin when you're out and about

Don't let eczema symptoms spoil your fun.
The On the Go Skin Soother Stick contains emu oil and soothing botanicals in a lip balm size stick that's convenient to carry with you.
5. Combine emu oil with your other favorite remedies to improve their effectiveness

Emu oil is a superior carrier oil because it is so similar in composition to human skin. 
This quality makes it especially effective at carrying other ingredients into the skin with it, improving their results.
Use in your own DIY recipes, or try all Soothe My Skin  cream, made with soothing chamomile, calendula and comfrey, plus other skin soothing organic ingredients.
HERE'S WHAT OTHERS ARE SAYING ABOUT EMU OIL FOR ECZEMA:
Thank you for your wonderful products. My 3 year old has had severe eczema for the past year and NOTHING has worked. We've been using "Banish my Rash" and the "On the Go" stick for 3 days and his eczema is almost gone! I have my happy little boy back thanks to his rash going away. So again, thank you!!!

Update: 
This morning I almost cried with how amazing my son's legs look. He also is asking me to put the cream on him, when he used to cry and run away when I'd put stuff on it. He even told me this morning, "it feels better mama!" So, thank you again!!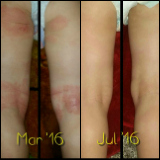 I have had eczema my entire life ( just celebrated 60). My skin gets irritated and I break out constantly, in the winter, in the summer, happy, sad, whenever, it doesn't matter. I was treated through the years in the typical manner using every prescription ointment or cream, prednisolone, and steriods, as well as, over-the-counter products. This last year my eczema really went out of control after having my gall bladder removed. I developed eczema in places I never had before --- it came on my head, arms, legs, feet, and hands and if you have eczema you know the itching will drive you insane.  
The skin on my hands was split open and bleeding with nerves exposed. I looked terrible and felt even worse. (see my pics) [As soon as I got my bottle of emu oil] I opened the bottle and started using it. It didn't burn and hurt as other medications did that I have used. Within 6 hours I started feeling relief.  As you can see from my pictures, using 100% Emu oil, Banish My Rash and Banish My Callus for only 20 days cleared my hands and feet. This is a MIRACLE. I have never used anything that worked this well with me. The itching is under control. I actually have finger nails, my toenails are looking great!, my hair is growing back, I am getting sleep, and as an added bonus my stomach has calmed down and I can eat. Now my eczema is under control, I can worry about my wrinkles. I highly recommend the emu products to anyone. 

Soothe My Rash Kit
For Eczema
We've combined our best selling all natural rash relievers into a money-saving kit that's great for anyone suffering from eczema or other troublesome skin conditions.  The kit contains:
Pure Emu Oil
Banish My Rash cream 
On The Go First Response Stick 
Emu Oil Soap
Use the Soothe My Skin cream for daytime relief of dry, red, flaky, scaly or itchy skin.  
At bedtime apply Pure Emu Oil and let its deep penetrating abilities nourish all 7 layers of your skin overnight.  
Keep the On The Go Stick with you when you're out and about to relive skin irritations when your cream or oil isn't readily available.
Cleanse, soothe and hydrate with Emu Oil Soap. This gentle bar is enriched with calendula oil and petals to pamper tender skin.